General
Aerobic Gymnastics is a contemporary gymnastics discipline, along with artistic gymnastics, rhythmic gymnastics, trampoline gymnastics, acrobatic gymnastics and gymnastics for all (G4A). All of these disciplines are under the responsibility of International Gymnastics Federation FIG, fuounded 1881, now located in Lausanne, Switzerland.

FIG Code of points, particular rules for every gymnastics discipline (AER Code of Points 2009/2012 for Aerobic Gymnastics), are accepted by European Gymnastics Union UEG as well.
Our Club has years of experience under the FIG system, taking part in domestic as well as official FIG international competitions, developing all segments of our gymnastics discipline: work with young athletes, age categories formation, adequate sellection, monitoring and controle of developmental processes, health aspects, as well as international cooperation with special attention to quality trends and permanent education. Another aspect is also the development of judges which take part in domestic and international competitions.

After one of our competitions: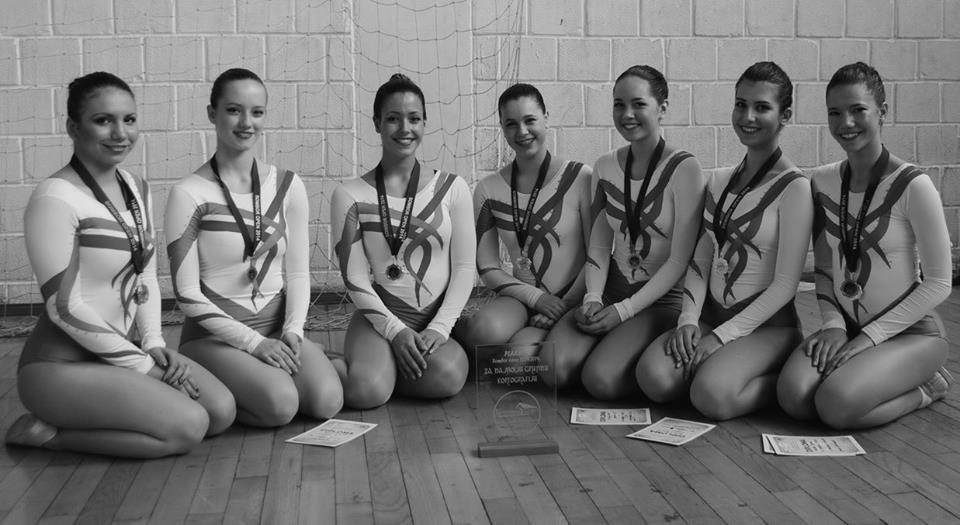 Competition Categories
According to Number of Competitors

Individual - IM (for men) and IW (for women)
Mixed Pair
Trio - 3 competitors (3 women, 3 men or any combination)
Group - 6 competitors (6 women, 3 men or any combination)
Aerobic DANCE - 8 competitors (6 women, 3 men or any combination)
Aerobic STEP - 8 competitors (6 women, 3 men or any combination)

According to Age

National Development (11 years of age and less)
AG 1 (12 – 14)
AG 2 (15 – 17)
Seniors (18+)